A compressor pedal is basically a device that is responsible for altering the sound that is produced by a musical instrument. It can alter the sounds through distortion or overdrive, or by dynamic effects.
Compressor pedals mainly work on the loudness of the sound produced and ensure that the guitarist is provided with a clear tone. These compressors come with a variety of features. Some compressors include blend controls, through which the guitarist can mix the signals produced by the compressor with the unedited or unaffected sound.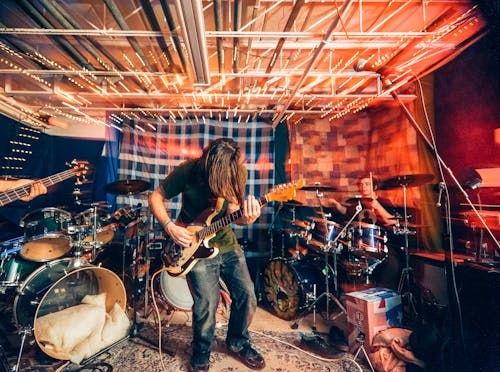 If you are thinking of buying compressor pedals for your guitar, then we are here to help you select the best one in the market! Check out our reviews of the 9 Best Compressor Pedals for Guitars in 2020, and select the one that would suit your guitar the best! Don't miss out the Buyer's Guide at the end of this article that would inform you about all the essential features that should be present in your compressor pedal.
So, let's start!
Keeley Compressor Plus
This is a compact compressor pedal, made in the USA, and provides the user with the absolute best tune.
This compressor pedal smoothens the sound produced and polishes the tones. The manufacturer claims that this comprssor pedal gives a "new life" to your sustain and provides you with a clear sound on each note you play. The sustain is like a tube amp compression. It has a studio rack mount design.
It is a portable compressor pedal that can be easily transported. It also fits onto your pedalboard easily, in spite of being a studio rack mount JFET compressor. It has controllable level, blend, sustain, tone, attack/release.
Features
Compact design.
Adjustable level, blend, sustain, tone, attack/release.
Easy to operate.
Smoothens the sound produced.
Gives a new life to sustain.
Clear sound.
Sustain is similar to a tube amp compression.
Precise studio rack mount JFET compressor.
Can be stored easily.
Portable.
Fits onto pedalboard easily.
Made in the USA.
Easy to use.
Gives amazing tones.
Easy storage.
It is a noisy compressor, according to a user.
Overall Ratings– 4.7/5 stars.
Wampler Ego Compressor V2 Guitar Effects Pedal
This compressor pedal by Wampler provides the user with unimaginable control! It has a unique layout that provides the user with complete control over the machine.
It also features blend control, which makes it a more versatile compressor pedal. These compressor pedals are special, since they let your tones remain transparent. It is one of those compressor pedals that need to be set just once and then can be left on for it to serve as a tonal sweetener.
It is made with the best quality materials, and that surely shows in the superior sound and response produced by it. It is a hand built product made in the USA, that is well known for its brand name, and its amazing control features.
Features
Made in the USA.
Hand built.
Provides total control.
Top mounted input/output jacks.
Powered by a 9V battery or 9V DC power jack.
Can be left "on" at all times.
Does not color the tone at all.
Provides blend control.
Open studio level parallel compression.
Soft relay switching.
Total control provided.
Range of effects.
Gives back uncolored tone.
Pops loud, according to a user.
Overall Ratings- 4.7/5 stars.
BOSS Compressor Guitar Pedal (CP-1X)
This compressor pedal by Boss uses a mDP Technology, which is an advanced technology that helps the user or the guitarist to preserve the musical expressions.
It is known to be a compressor pedal that provides absolutely natural compression and gives an extremely clear sound. It uses an Intelligent circuitry, which is responsible for adapting to every playing nuance. It features stompbox controls that has many interlocking parameters. It also comes with the amazing feature of gain reduction indicator, which indicates the amount of current compression.
Unlike most compressor pedals, this compressor is actually able to reduce noise with the help of its digital circuitry. It is compatible with all types of guitars and is an extremely versatile compressor pedal.
Features
Versatile product.
Reduces noise efficiently.
Digital Circuitry.
Gain reduction Indicator.
Natural compression.
Gives a clear sound.
Intelligent circuitry is used.
Adapts to every playing nuance.
Stompbox controls.
Interlocking parameters.
mDP technology is used.
Helps preserve musical expressions.
2 AA batteries required.
Gives a clear sound.
Preserves musical expressions.
Gain reduction indicator is quite useful.
Few customers complained about not receiving all the said accessories.
Overall Ratings– 4.4/5 stars.
TC Electronic HyperGravity Compressor Pedal
This compressor pedal by TC Electronic serves as a studio quality multi band compressor, right in the form of a pedal. It has a vintage mode which provides the user with classic compressor tones.
It allows the user to create their customized and personal compression effects and sounds, with the help of the TonePrint Editor software. It has an internal switch, which allows the user to select between buffered or true bypass. The digital components in this compressor pedal is made of high quality materials which ensures the durability of the product.
It is a road ready compressor pedal, that has a compact design and gives optimal clarity to the sounds produced and no high-end losses when the pedal is turned off. The buffered bypass mode is responsible for preventing high frequency losses.
Features
Studio quality multi-band compressor.
Vintage mode.
Classic compressor tones.
Allows customized compression effects.
TonePrint Editor software.
Internal switch.
Buffered and true bypass options.
High quality digital components and analog.
Durable.
Road-ready.
Compact design.
Zero high end loss.
Prevents high frequency loss.
Durable.
Allows creation of personal compression effects.
No high end losses.
Overall Ratings– 3.6/5 stars.
Fender The Bends Compressor Pedal
Fender is one of the most known and trusted names in the market for musical instruments or devices. This compressor pedal does not disappoint as well!
It comes in a sleek design which makes it look attractive and also allows easy transportation and storage. It features dual audio paths, which means that there are two different internal paths which help in prevention of any noise from entering or adding to the signal. It also features a blend control, through which the user is able to mix guitar signals. They also have this amazing feature of LED illuminated knobs, which let the user know the control signals that are being used even in the darkness, and without any effort.
It works on 9V batteries, an the battery door is magnetic. You don't have to spend much time or energy to change your batteries, since the door is magnetically latched and allows you to do your work within seconds! It is a lightweight and durable product, which is also stage ready.
Features
Durable.
Stage ready.
Lightweight.
Magnetic battery doors.
Needs 9V batteries.
LED illuminated knobs.
Blend control.
Dual audio paths.
No noise is added to signal.
Attractive.
High current control path.
Prevents addition of noise to guitar signals.
Magnetic battery door is quite helpful.
LED illuminated knobs for easy visibility of control settings.
Doesn't work well on dirt channel, according to an user.
Overall Ratings– 4.5/5 stars.
MXR M102 Dyna Comp Compressor Pedal
This compressor pedal from MXR is a multi-colored one, which gives it an attractive and playful look. It provides the user with superb tone and excellent clarity sound.
It is an in-line compressor that is known to even out signals from your guitar to your amp. It is also known to give high sustain along with stable dynamics. It is battery operated and needs a 9V battery, or can also be powered through an AC adapter. It also features special sensitivity controls.
It is a Nashville studio standard product and has a compression circuit. The manufacturer claims that it would give the sound that we hear in pop hits.
Features
Nashville studio standard.
Compression circuit.
Battery powered or AC adapter.
9V battery.
In-line compressor.
Evens out signals.
High sustain.
Stable dynamics.
Multi-colored.
Superb tone.
Clear sound.
Sensitivity control.
Compression circuit.
Constant output signal.
Clear sound.
Increases sustain.
Attractive look.
Overall Ratings- 4.4/5 stars.
Xotic SP Compressor Guitar Effects Pedal Bundle
This compressor pedal is an extremely versatile product and provides its users with a wide range of tones. It is the best compressor to add some shimmer to you strat.
It uses Operational Transconductance Amplifier (OTA) Technology. It efficiently removes all kind of signal interference and works well even with distortion pedal. It offers crunchy lead tones when used with distortion. It has easy to adjust internal dip switches that can be used to avail different settings like humbucker sparkle, country twang.
It comes with a Blucoil Power supply that has AC/DC adapter. It also includes 4 celluloid guitar picks of different colors.
Features
Versatile product.
Offers a range of tones.
Operational Transconductance Amplifier (OTA) Technology.
Removes interference.
Produces crunchy leads.
Internal dip switches.
Blucoil power supply.
Operates on AC/DC adapter.
Comes with guitar picks.
Plays well with other pedals.
Wide range of tones is provided for the user.
Offers the same technology used in other pedals.
Prevents interference.
A bit noisy in medium and high compression modes.
Overall Ratings- 4.9/5 stars.
Empress Effects Compressor Analog Compression Guitar Effects Pedal
This is a multi-colored compressor pedal that looks attractive, and works amazingly too. It is also one of the most highly rated compressor pedals available on Amazon.
This is a truly transparent compressor by Empress, and has studio compressor standards. It includes all the controls that are present in studio compressors. It provides a wide array of sound options and also increases the sustain. It also features a wet/dry mix knob, which makes parallel compression for transparency and dynamics possible.
It is a flexible compressor pedal, that gives 3 comparison ratios. It also features blend control.
Features
Attractive.
Multi-colored.
High rated.
Truly transparent.
Studio compressor standards.
Many sound options.
High sustain.
Wet/dry knob.
Parallel compression.
Flexible.
3 comparison ratios.
All analog signal path.
Attack and release control.
Allows blending of uncompressed signals.
Blend control.
Provides high sustain.
Features 3 comparison ratios.
Overall Ratings– 4.8/5 stars.
Origin Effects Cali76 Compact Deluxe
This compressor pedal by Origin Effects is a studio grade compressor that features high current and also prevents the entry of noise. It also features a parallel compression control and a class-A circuitry, which makes it an all-in-one compressor pedal!
It has a compact design, and carries almost all the essential features required even in its small size. It features controls for ratio, release and attack. It increases sustain and also features a jewel lamp that is basically a gain reduction meter, which has 3 colors for signalling. It features a Dry Blend Control which allows the user to mix dry signals with compressed guitar tones.
It uses studio recording techniques and gives tone thickenings along with high sensitivity.
Features
Studio recording techniques.
Dry blend control.
Increased sensitivity.
Thickens the tones.
Gain reduction meter in the form of a jewel lamp.
Individual controls for ratio, release and attack.
Compact design.
High current.
No noise.
Parallel compression control.
High sustain.
Class A-circuitry.
Prevents interference.
Uses studio recording techniques.
High sustain.
Few users received faulty pedals.
Overall Ratings- 4.7/5 stars.
Frequently Asked Questions
Is compressor pedal necessary?
Compressor pedals are basically the step to take your guitar rig up. If you have not used one so far, then you wouldn't realize the difference it creates. On using it once, you will find out how much difference it can bring to your music. It may be said that a compressor pedal gives your music a new life!
What does attack do on a compressor pedal?
The speed at which gain reduction is begun on a a compressor is known as the compressor attack. The gain reduction begins when the threshold set by the user is passed by the signal.
Does metal need a compressor pedal?
Metal may not "need" a compressor pedal, but you can surely use one for various reasons. The compressor pedal helps in producing a smooth sound even when played in high distortion. It gives a clean boost and a cleaner sustain. So, you can definitely use a compressor pedal for metal.
How do you use a compressor pedal?
Check out this video to learn how to use a compressor pedal.
What does a booster pedal do?
A booster pedal is responsible for increasing the gain of a signal that is produced by any guitar. It does not effect the tone of your guitar, unlike other pedals. It is also the most simple pedal.
Buyer's Guide
All the above mentioned compressor pedals are the best ones available in the market. Yet, there might be a few points to keep in mind before you select one from the above list.
First of all, you need to figure out if you need a compressor that would give a transparent working or one that would cut or boost the EQ. It would totally depend on you as to which kind you are looking for.
Multi-band compressors are recommended, since they are able to process signals of varied frequencies, independently. This would give you a transparent signal.
Always go for compressors that offer maximum control, because who wouldn't want to have control over their music, right! Most compressors offer controllable attack and recovery, which are quite essential since they provide you the power to control every small detail regarding your music.
The blend control is one of the most useful controls and you should definitely go for a compressor that has this feature. Being able to mix your uncompressed signal with the compressed signal is very helpful, which you might know as a musician. So, always look out for blend control.
Summary
Phew! That was long, isn't it? But now you know the best compressor pedals and the features to look out for in them, so why not! You are now officially ready to go buy that compressor pedal to pump up your music to the next level!
Our work here has been done, and now it is on you to select your favorite product and hit "Buy Now"!
Thanks for reading this article. Please leave your comments below.
Also, check out our article on the 7 Best Wireless Guitar Systems of 2020.